If when registering your domain, you didn't select the 'ID Protection' option then this means that a whois search can reveal your name and address. Some companies have started to abuse this and regularly send letters out to businesses and individuals that have domains.
If you have received a letter from 'Domain Renewal Group' (formerly 'Domain Registry of America') then ignore them, this is not an official reminder and is an attempt to get you to transfer your domain away from us.
Here is an example of the letter you may receive. They are hoping to convince you to transfer your domain to them at much higher rates than we charge (they charge £20 a year compared to our £7.99).
We do not sent out letters via the postal system to remind people to renew their domains, we send out email reminders only. Please ensure that you only ever renew your domain via bellonline.co.uk.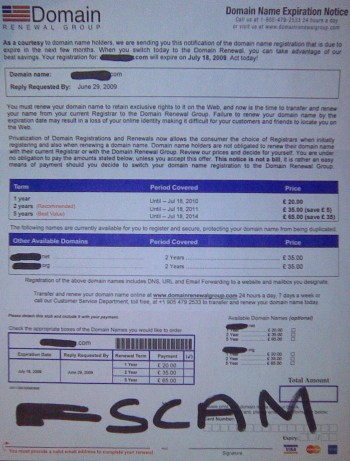 They are also known in some countries as Domain Registry of Europe or EU Registry Services.
It important to note that you are welcome to transfer your domain to this company if you wish to do so, but we can no longer guarantee the proper functioning of your website as your domain will be out of our control - they will have full control over your domain.
There is some more info on similar scams at http://www.domainscams.co.uk/